Your travel budget may go a little further this Summer if you visit Niagara Falls via GO Train for as little as $10.00!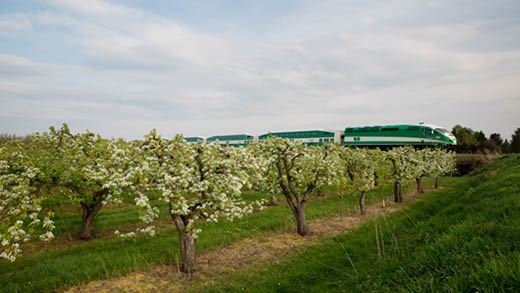 Metrolinx has announced that seasonal weekend and holiday GO Train service between Toronto's Union Station and Niagara Falls will begin on May 21!   Combined with a weekend pass, which provides for unlimited use across the entire network, guests can travel to Niagara Falls from Toronto, and all stops in between for $10 for one-day unlimited use, or $15 for two-day use.  Adding to savings, children 12 and under ride free, which makes a Go Train trip to your favourite family-friendly Niagara Falls Hotel and visiting exciting Niagara Falls attractions a convenient and economical option.
A popular method of travel, the seasonal schedule will offer three trips on Saturdays, Sundays, and Holiday Mondays from Victoria Day Holiday Weekend through Thanksgiving in October.  Unlimited travel Weekend pass tickets are valid for the same days, and must be purchased online, and activated via smartphone 5 minutes before traveling.
The Niagara seasonal trains will contain 12-cars and will include three bike coaches capable of holding 18 bicycles each, plenty of room if your plans include cycling in Niagara.
As safety remains a priority, masks continue to be mandatory on GO Transit in accordance with provincial guidelines.
Planning a Niagara Falls getaway?  Reserve your room at Clifton Victoria Inn At the Falls today and enjoy FREE Hot Breakfast, FREE Parking and FREE Wireless Internet! 
All in the centre of the excitement just steps from Niagara Falls!