One of the most exciting parts of any visit to Niagara Falls is taking in the breathtaking beauty of the world-famous waterfalls.  They are the first outdoor attraction visitors wish to see, and the remarkable experience of viewing them can be enhanced with a visit to these other incredible outdoor destinations and attractions around the Niagara Region.  Many of these fresh-air adventures are a short distance from our hotel, which is just one block from the Falls.
Niagara Parkway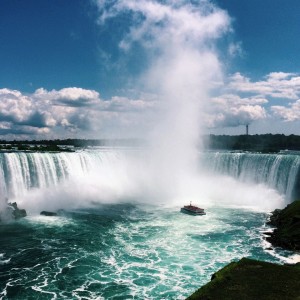 A 56 kilometre trail stretching from Fort Erie to Niagara-on-the-Lake, and offers one of the most fascinating views of the American, Bridal Veil and Horseshoe Falls.  The parkway takes you along the brink of the incredible Horseshoe Falls. You can stand behind it to see the massive volume of water flowing over the edge, view Niagara City Cruises boat tours in the water below, and have a unique and special experience taking in one of the world's remarkable natural wonders.  Proclaimed once as the prettiest Sunday drive in the world,  the parkway also features a multi-use, paved recreation trail making it a destination for cycling and strolling, and features picnic areas along the way.
Niagara Gorge Trails
To connect with some incredible nature and spend an active morning or afternoon in Niagara Falls, hike along one of the Niagara Glen nature trails leading into the Niagara Gorge. You will find stunning views of the Niagara Whirlpool and rapids and there are trails of varying difficulties, so it is easy to find the one that is right for you.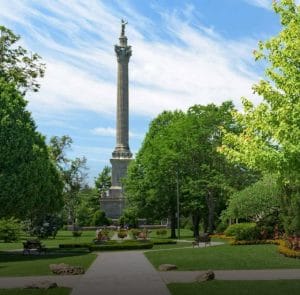 Queenston Heights
The sprawling park was the site of the Battle of Queenston Heights during the War of 1812 and is now a spectacular park that is home to the Brock's Monument tower, Laura Secord memorial, Landscape of Nations memorial, a scenic restaurant, pavilions, picnic areas, and more. It is definitely worth a visit if you are looking to have a relaxing day in nature while learning about local history.
Vineyards of Niagara on the Lake
Niagara on the Lake is a world-famous wine region and many of the vineyards and wineries produce incredible red and white wines along with the very popular ice wine. A visit to Niagara on the Lake will connect you with breathtaking vineyard landscapes as well as beautiful buildings and gardens in the historic town's charming downtown area.
Queen Victoria Park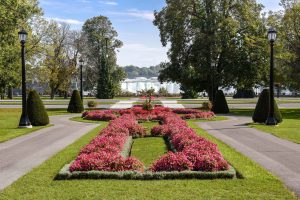 Located directly across the street from the Falls, just one block from our hotel, Queen Victoria Park is an expansive and beautiful parkland that sits right in the heart of the city's tourist district. The park offers plenty of great places to sit and picnic and also features amazing seasonal flower and greenery displays, beautiful fountains, and well-groomed lawns for a spectacular experience in an unbeatable location.
These are just a few of the outstanding outdoor experiences that can be explored in Niagara Falls.
Reserve your stay and experience the natural beauty of Niagara Falls