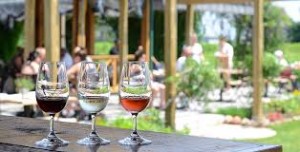 Niagara Falls and the surrounding region offers an intimate experience of the delicious Ontario Wines made right in Niagara. The summer is one of the best times to enjoy the wineries and their hand-crafted masterpieces that have turned Niagara into a wine lover's paradise. Make this summer all about wine and learn a new thing or two about the popular wine industry in the region.
Guided Tours
Almost all of the wineries in the region offer guided tours of the vineyards with a chance to see the winemaking process. Visitors can see barrels of wine, grape growing and picking happen all throughout their tour. The intimate tours allow visitors to get behind-the-scenes of Canada's most coveted wineries. To avoid disappointment, pick a winery or two a head of time and call to reserve a spot.
Wine Tastings
After your guided tour, indulge in tastings from some of your favourite wineries. Typically most wineries will offer flight tastings of their wines allowing you to learn more about the winemaking process, different styles of wine and the details of the individual wines themselves.
Special Events
Wineries in Niagara-on-the-Lake offer intimate events for visitors to enjoy the vineyards, the wine and the winemakers. Events include Pop Up Patio at Pillitteri and Earth & Sky Music Market at Chateau des Charmes. Most events are family friendly and include kid zones, live music and delicious food.
Dinner and Wine
A glass of wine is accompanied perfectly with a delicious meal and the wineries have been able to master this! Most wineries have restaurants inside where they offer food and wine combinations that have been selected and matched by professionals.
If you are a wine enthusiast or love a casual glass, make sure to visit Niagara this summer!