Looking for outdoor festivals and fun family events to attend while visiting Niagara Falls? Check out
Springlicious 2015 and Niagara Falls Comic Con!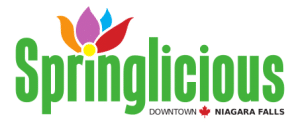 Niagara Falls's annual Springlicious festival is happening May 29-31st on Queen Street in the city's historic downtown district. This free three-day street festival features wonderful local cuisine, great beer
and wine, and all kinds of live entertainment that makes it a perfect outdoor family activity.
Niagara Falls Comic Con is taking place June 5-7th at the Scotiabank Convention Centre and will feature hundreds of exciting exhibits and a number of popular celebrity guests. This year's guests include David Hasselhoff, Sean Astin from Lord of the Rings, Billy Dee Williams from Star Wars, Alfonso Ribeiro from The Fresh Prince of Bel Air, and many more. Comic Con is one of the biggest events of the summer, so purchase your tickets ahead of time to get in on the fun!