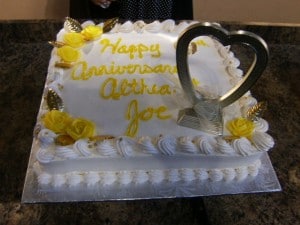 Althea and Joe T. recently celebrated their 50th Wedding Anniversary with a return trip to Niagara Falls and their favourite Hotel Clifton Victoria Inn at the Falls. Althea and Joe were guests at the Clifton Victoria Inn and were greeted upon their arrival by Hotel General Manager Nancy Wales and her staff along with Ms. Barbara Greenwood. Nancy and her staff made the Taylor's 50th Anniversary an unforgettable experience with a beautiful Cake, Wine Gift and a lovely card. The Taylor's also celebrated with their family members while enjoying another visit to there favourite Hotel in Niagara Falls for a number of reasons.
'One of the best hotels you could ever stay at. Clean, comfortable rooms. Friendly management and staff. Great free breakfast, and free parking. Walking distance to the Falls and main attractions." said Althea.
Althea and Joe are continuing their 50th Wedding celebrations with a special trip to Europe.