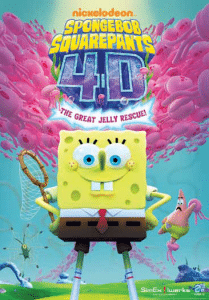 The "Imagine" Magic Show at Greg Frewin Theatre
Experience a one-of-a-kind magic show featuring rare tigers, spectacular illusions, and exotic birds from around the world at the "Imagine" Magic Show at Greg Frewin Theatre. The theatre is located in the heart of the Niagara Falls tourist district and offers delicious buffet dinners and a chance to head backstage after the show for photo opportunities with a tiger. It's a magical all-ages experience that you won't want to miss!
Spongebob Squarepants 4-D and Great Wall of China
The Iwerks 4D Motion Theatre on Falls Avenue Resort will take you on the adventure of a lifetime with simulator stadium seating, air blasters, water jets, and amazing 3D movie technology. The theatre is currently playing Spongebob Squarepants 4-D The Great Jelly Rescue where you set off on a wild adventure with Spongebob and friends through Bikini Bottom, and Great Wall of China, which takes you on a rocket powered rickshaw ride across the incredible Great Wall. Come see, feel, and hear what all the excitement is about!
2015 Play Bill at the Shaw Festival Theatre
The Shaw Festival Theatre in Niagara-on-the-Lake is a beautiful local institution that has been putting on the plays of George Bernard Shaw and his contemporaries since 1973. The 2015 playbill features plays such as Sweet Charity, Pygmalion, Peter and the Starcatcher, and Light Up the Sky, which run on various dates until fall. The Shaw offers incredible entertainment and unique cultural experiences, so while visiting historic Niagara-on-the-Lake for the acclaimed wineries and beautiful scenery make sure to also stop by the Shaw for some world-class theatre.