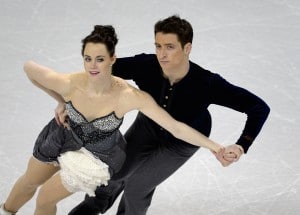 Head to the brand new Meridian Centre in St. Catharines on January 30th, 2015 at 7:30pm for the very first Skate Niagara Ice Show, featuring many of Canada's favourite Olympic and World Champion skaters, such as Tessa Virtue, Scott Moir, and Kurt Browning.
The Skate Niagara Ice Show will be an exciting night of live entertainment with Canadian legends performing spectacular skating acts. Olympic gold medalists Tessa Virtue and Scott Moir, four-time World Champion Kurt Browning, St. Catharines native Kirsten Moore-Towers and her partner Michael Marinaro, Canadian Synchronized Team Champion NEXXICE, aerial team Flying On Ice, Mery Acevedo, and Alfonso Campa will all be displaying their skating talents for one night only at the Skate Niagara Ice Show!
Tickets for the show start at less than $49 and can be purchased at ticketmaster.ca or the Meridian Centre Box Office.