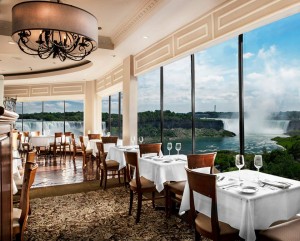 Mother's Day is coming up on May 10th and a day in Niagara Falls is the perfect way to celebrate and
spend time with mom.
Start the day with a beautiful meal at the Rainbow Room by Massimo Capra's Mother's Day Brunch,
which features delicious culinary delights in a spectacular Fallsview setting. The menu features unique and tasty dishes like stuffed French toast, dark chocolate rubbed lamb, sweet and savory breads and pastries, carved prime rib, and much more.
Afterwards take a stroll through Queen Victoria Park, right across the street from the incredible Niagara Falls. The park features beautiful floral arrangements and gardens throughout, and has plenty of places where you can sit down, relax, and enjoy the beauty of nature.
And to finish off a wonderful day, stop by McFarland House in Niagara on the Lake to enjoy some traditional afternoon tea. The setting is a lovely Georgian-style house built in 1800 that offers an incredibly charming and memorable experience.