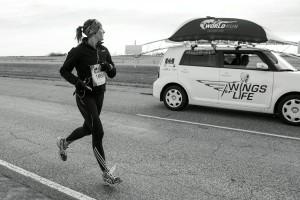 It has recently been announced that the Red Bull Wings for Life World Run is coming to Niagara Falls on May 3, 2015, with more than 100,000 people expected to participate. The run will be taking place in 40 locations around the world and is a unique and exciting sporting event unlike any that Niagara Falls has previously hosted.
According to the Wings for Life World Run website, "All over the world, everyone taking part starts running at exactly the same time. Thirty minutes after the start a Catcher Car sets off at each location. As long as you stay in front of this car, you stay in the race. When you are passed by the Catcher Car, your race is over. This continues until there's a single man and single woman left running. Only they will be crowned the Global Champions of the Wings for Life World Run."
This unique run raises money for spinal cord research with 100% of the money from entry fees going to the Wings for Life research foundation. It is an exciting event for the City of Niagara Falls to be hosting and will definitely be a must-see for locals and visitors alike.