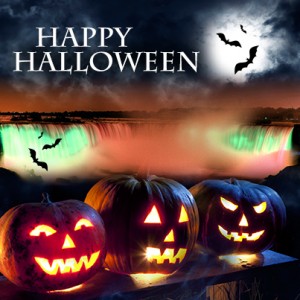 The month of October is upon us and there is no shortage of fun and excitement to be had in Niagara as Halloween approaches.
On October 11, Safari Niagara will be hosting Boo at the Zoo, a family-friendly Halloween party where people of all ages can trick-or-treat around the zoo, gathering treats brought to you by numerous local businesses. The event even includes costume contests, an animal presentation, and a Halloween tram ride.
For something a little spookier, try a Halloween Ghost Tour of Fort George from October 17 to November 2. These tours are the longest-running ghost walks in the region and will bring you all around the haunted and eerie Fort George. You will even have the opportunity to see the Officers' Quarters, which is usually off-limits during the summer ghost tours.
To experience the best fall harvest food in the region this month, you can attend Octoberfest with Sam Fiore on October 24 at the Sheraton on the Falls. This Niagara Culinary Experiences event will pair craft beer flights from regional artisinal beermakers with a delicious 5-course fall harvest menu.
The Niagara region has a lot to offer people and groups of all ages during the month of October, allowing visitors and locals alike to make the most of the beautiful fall season!