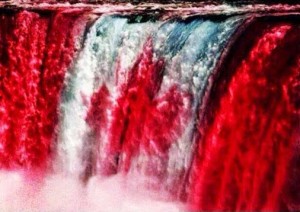 On November 15th, 2014, Niagara Falls and the surrounding parklands will be illuminated with millions of sparkling lights for the annual Ontario Power Generation Winter Festival of Lights, running until January 12th, 2015.
The OPG Winter Festival of Lights attracts more than 1.5 million visitors annually with dazzling lights illuminating Dufferin Islands and the surrounding parklands. There is no admission fee to view the five-kilometre illumination route, however donations are accepted at the exit of Dufferin Islands for upkeep and enhancement of the displays.
Opening ceremonies for this year's festival will take place on November 15, 2014 in Queen Victoria Park, which will feature live performances, an exciting fireworks show, and a flip-the-switch ceremony. Fireworks shows will also be happening every Friday night at 9pm during the OPG Winter Festival of Lights Season, with additional shows occurring during the holidays.
The OPG Winter Festival of Lights is an exciting and beautiful tradition in Niagara Falls, offering a wonderful activity for people of all ages. The amazing lights are sure to dazzle and get visitors and locals alike into the spirit of winter and the holiday season.