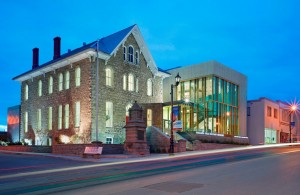 Niagara Falls and the surrounding region have a long and exciting history that anyone can experience with a visit to the Niagara Falls History Museum. The museum is located within walking distance from the city's main tourist district and has a number of exciting exhibitions and events for people of all ages to experience.
Current exhibitions at the museum include the Gale Family War of 1812 Gallery, dedicated to the War of 1812 and its impact on Niagara Falls, and the Niagara Falls Community Gallery, which is an interactive exhibition dedicated to the history of the city. An exhibition entitled "Nature" will be running from January 14th until April 19th, which focuses on various natural species and habitats, and the importance of biodiversity.
Upcoming museum events include Playwrights Niagara on January 22nd, which sees local writers giving dramatic readings of their plays, and the Jazz Dramas: Winter Film Series on January 29th, which will screen the 1943 film "Cabin in the Sky". The museum is open late every Thursday night, and admission is free on this day from 5-9pm. Stop by the Niagara Falls History Museum for a unique and interactive experience that teaches visitors about the rich and important history of Niagara Falls.