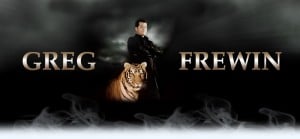 Everyone wants to have a magical vacation, so why not check out the world-class magic show at the Greg Frewin Theatre! The World Magic Awards called Frewin the "Best magician in world!" and his show in Niagara Falls is proving to audiences from around the world exactly why he was given that unique distinction.
While Frewin now calls Niagara Falls home, over the course of his career he has been a star at the Flamingo Hilton, Caesar's Palace and The Tropicana, displaying his amazing magical talent.
If you enjoy living life on the edge, then you simply have to experience the special features of this event. Greg's magic show involves the use of live tigers as well as other wild animals. After the show you even get the opportunity to have your picture taken with one of the magnificent creatures.
An evening performance at the Greg Frewin Theatre also includes a full buffet dinner option to go along with the world-class magic show.
For magic fans and even skeptics, Frewin's show is an incredible performance that will definitely leave you wondering how he did that at the end of the night.
For an extra special treat, the Greg Frewin Theatre offers a VIP experience that allows you to meet and get to know Greg Frewin backstage. This experience will let you to tour the theatre and meet the entire crew that make the wonderful experience possible. Top that off by getting an autographed picture of you with Greg and you're magical night will be complete!